Alright... I've decided to start my first 'Blog Feature', and since it's Tuesday.. I thought I'd self title it! Also, I am a huge fan of alliteration, so I had to stay with tha' T's. My english teacher would be so proud..
So here it is, I'm introducing Trended-Tuesday! I spend a lot of time on blogs and buried in magazines looking through the latest trends in everything from weddings to cooking to booty dancing (oh yes, it's true). I always find some spectacular things that I want to share with all of you, and this is how I'm going to do it. When I blog it, consider it trended :)
Trend of the moment? I'm loving pears. A friend and I talked all about them on Sunday (makes you want to be a part of our conversations, doesn't it) and so I decided to look and see what I could find. I found a lot, but here are some of my fave's. Delicious.
How unique are these? What a great personal addition to your wedding decor. Found
here
.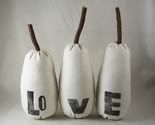 Cute Stationary found
here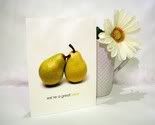 The most gorgeous 'something blue', love the pear-shaped stones
Ok this is by-far my favorite, a unique twist on the traditional guest book, guests leave well-wishes for you in this 'Perfect Pair' jar. Fabulous. Find it
here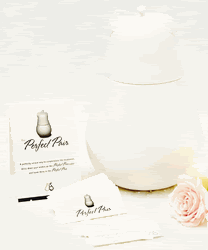 Happy Tuesday to you all, and please, if you haven't done so already (or you want to do it again) please text HAITI to 90999 to donate $10 to the relief fund.