Well last night was a night for the books. We saw John Mayer at Philips Arena...a concert we have been waiting months for, and that we knew would be great because of the record time in which it sold out.
8 girls. Wearing green. Fun Holiday. Great music. No loyalties.
Say what you want about Mr. Mayer (or should I say... '
say what you need to say
...
') but he puts on a great show. His covers of Bob Dylan and Bob Seger were great.
Since our tickets specifically said 'no professional camera equipment allowed' I couldn't really play dumb and try to bring in my monster of a camera. I did however bring in my blackberry, and took a picture for tha' camera fone!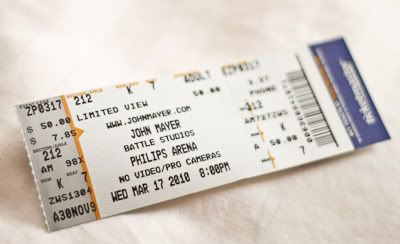 alright... i'm out. I have a mountain of sleep and nutrition to catch up on.